While holograms are more commonly used as security and anti-counterfeit measures on packaging, holographic effects can also offer enhanced visual impact for the product, particularly if the 3D imagery can be extended to include the entire surface of the pack in question and offers a 'motion' effect to make it really come 'alive'.
AIPIA member, Printpack, a major manufacturer of flexible and specialty rigid packaging, has partnered with Fathom Optics to develop the first hologram-like 3D pouch on a wide web flexographic press.
Using standard ink and equipment, Fathom's software creates next-level optically-varying features with the illusion of motion and depth, much like a hologram, they say.
Printpack has used Fathom's software to create a holographic, jungle-themed pouch. The optical print effects make it appear as if the tiger is coming through the surrounding jungle leaves.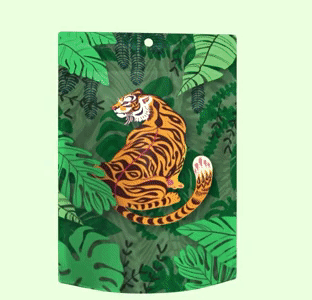 Designed to stand out on a crowded shelf, this premium package, with motion effects, gives consumers a truly mesmerizing and interactive experience.
The companies believe this visually arresting printing technique is perfect for everything from pet treats to holiday candy, giving a very unique boost to specialty promotions.
This is the first time Fathom's technology has been used on a wide web press. The pouch made its debut at the Pack Expo International exhibition, held recently in Chicago.
Want to put yourself at the forefront of smart packaging innovation? Click here to get your tickets for the AIPIA World Congress, which takes place in Amsterdam on the 14th and 15th of November 2022.
This article was created in collaboration with AIPIA (the Active and Intelligent Packaging Industry Association). Packaging Europe and AIPIA are joining forces to bring news and commentary about the active and intelligent packaging landscape to a larger audience. To learn more about this partnership, click here.
Source:
https://packagingeurope.com/news/printpack-launches-flexible-pouch-with-hologram-like-features